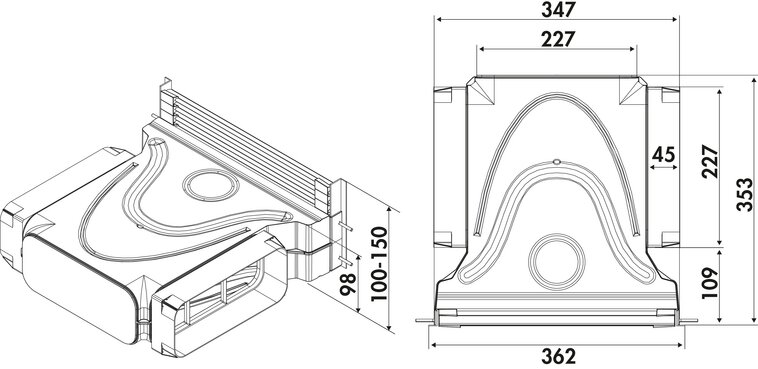 By viewing the video you agree that your data will be transferred to YouTube and that you have read the Privacy policy.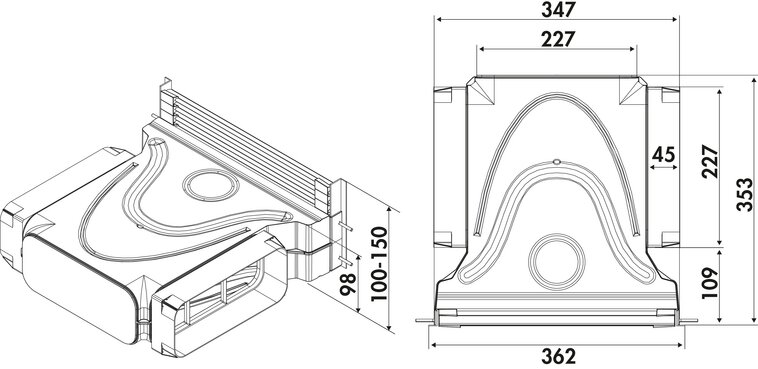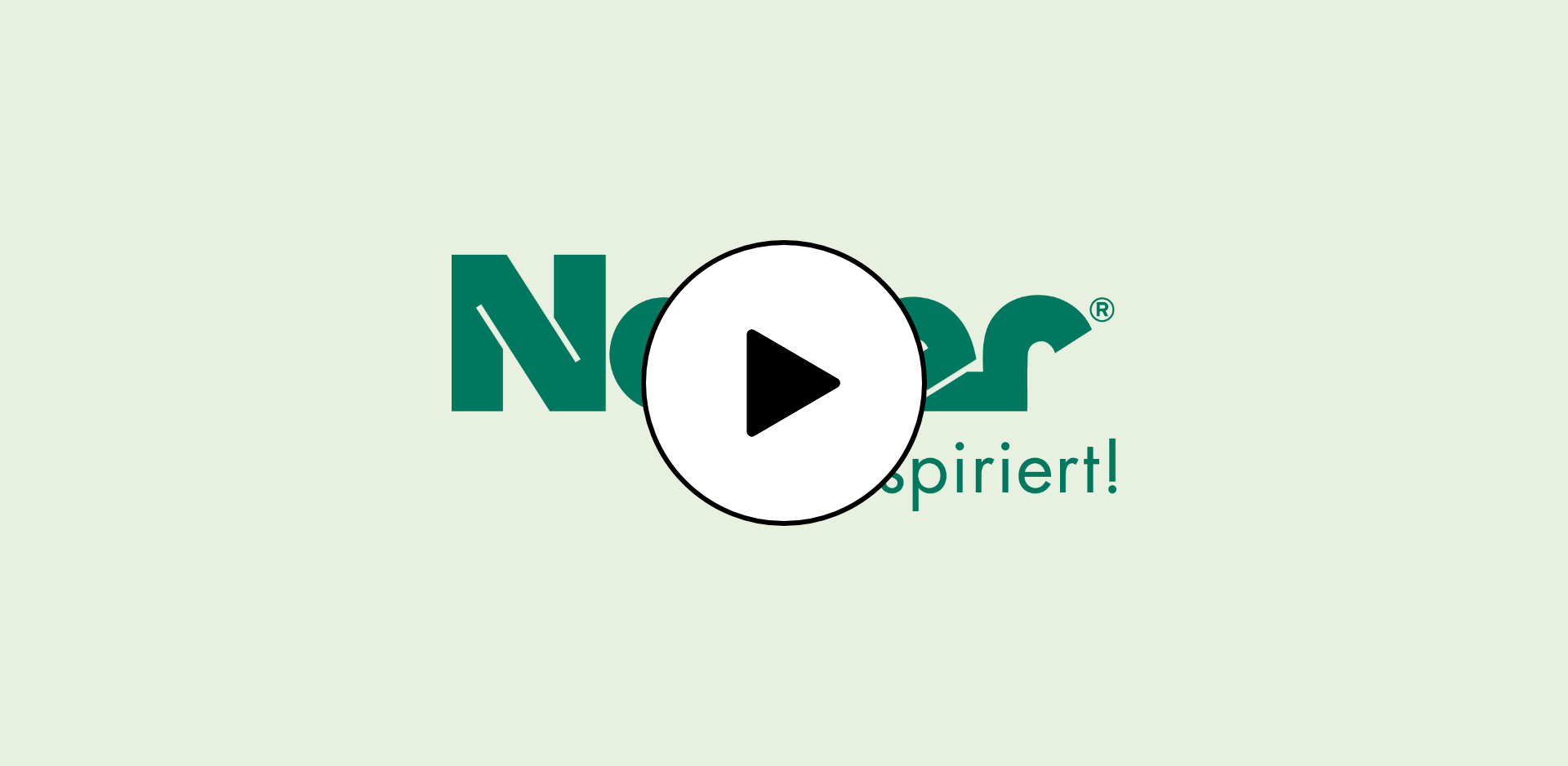 PRIME flow GREENflow filter box, grey
Description
PRIME flow GREENflow filter box, grey
The modular COMPAIR® GREENflow filter box is specially designed for recessed fans in the kitchen. The recirculating air filter system efficiently and safely eliminates odours and evenly guides the vapours produced during cooking back into the room thanks to integrated guide bodies. This prevents moisture damage and soiling of the carcase. The downdraft extractor is equipped with a ventilation grille made of anodised aluminium, which has aerodynamically optimised lamellas. They minimise the pressure loss and ensure a barely perceptible noise level. Due to the low installation height, the table fan can be used universally with plinth heights of 100 to 150 mm and placed flexibly. The integrated plinth foot can be used as required. It has a load-bearing capacity of up to 300 kg. To achieve an optimal ventilation result, the use of at least two air filter boxes is recommended. The system can be easily extended. Matching COMPAIR® flow air duct elements and the OMEGA activated carbon filter are available as accessories.



Recirculating air filter system for filtration of cooking vapours when using a downdraft hood/hob ventilator.
— high flexibility in the positioning of the filter boxes
— suitable for base heights from 100–150 mm (grid can be shortened)
— guide vanes provide for uniform distribution of the air flow
— suitable for almost all common downdraft hoods/ hob ventilators, with or without own activated carbon filter
— simple maintenance/access
— integrated base foot (optionally usable, load capacity up to 300 kg)
— aerodynamically optimised blades of the ventilation grid (anodised aluminium) minimise the pressure loss
— maximum outlet cross-section provides for barely perceptible air movement

Note:
The GREENflow OMEGA filter needs to be ordered separately if required.
For good ventilation results, the use of at least two boxes is recommended.




Suitable for:
suitable for almost all common downdraft hoods/ hob ventilators, with or without own activated carbon filter
MAGAZINE
It couldn't be better: COMPAIR PRIME flow®!
Our latest air duct system revolutionises kitchen ventilation: Maximally innovative. Maximum efficiency. Maximum airtightness. And the installation is simply ingenious.
Contact persons and kitchen professionals in your area
The nearest Naber dealer is not far away. On this page you will find competent contact persons and kitchen professionals.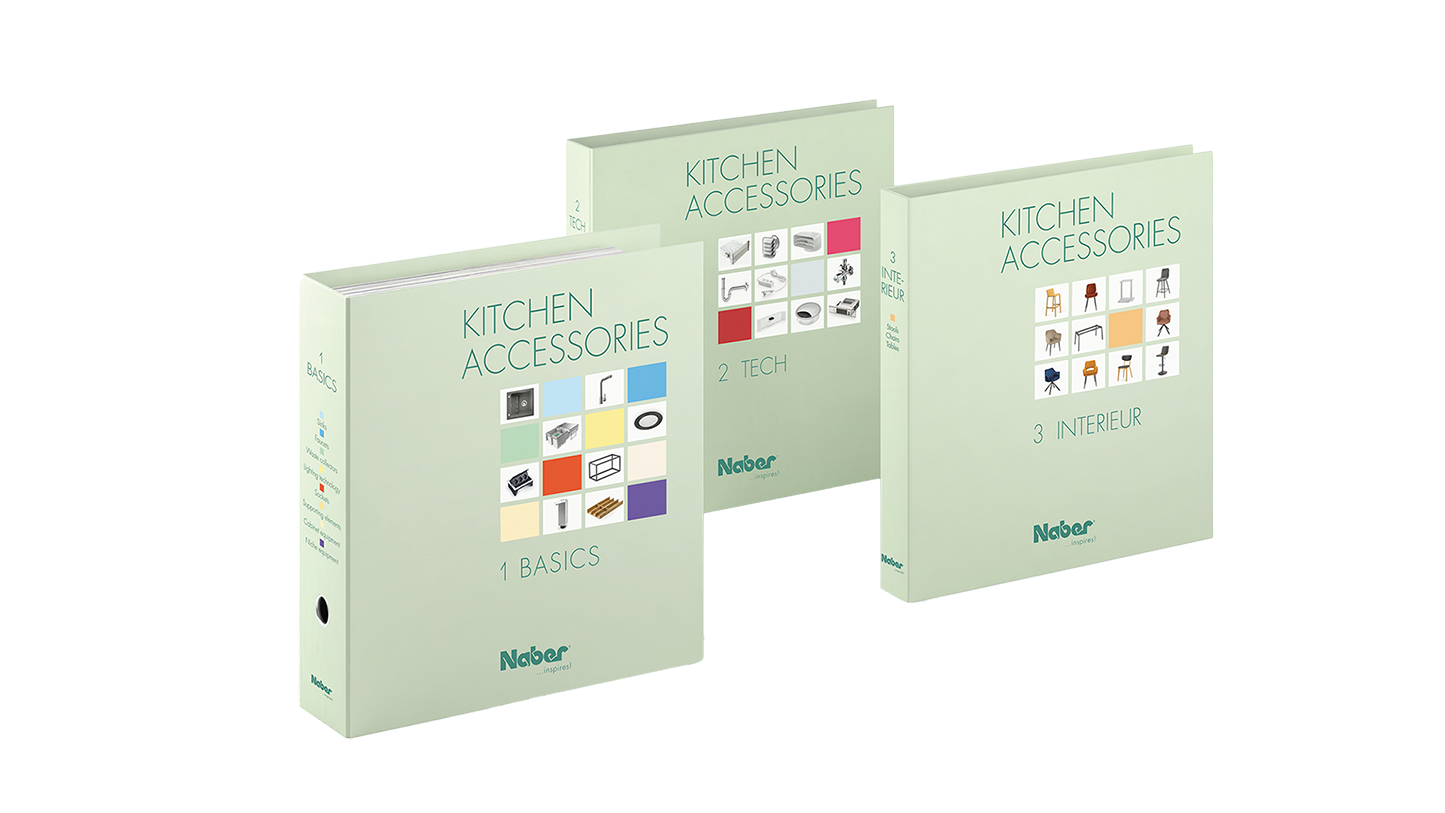 There are three print catalogues: BASICS, TECH and INTERIEUR. They are a popular orientation guide and a rich source of information for browsing and looking around. Let yourself be inspired!