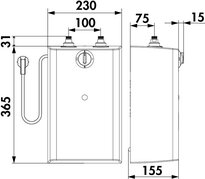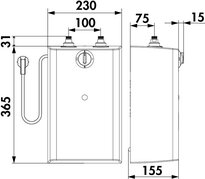 Under-sink device Small U5, white
Hot water tank

pressure-free (Open)

low pressure
Description
Under-sink device Small U5, white
The space-saving Small U5 hot water tank looks particularly small in the sink cabinet and comes up trumps with its fast heating. This saves water and keeps electricity consumption low. It is suitable for low-pressure taps in conjunction with the cold water connection in the kitchen. In the twinkling of an eye, the pressureless storage tank provides 7.5 l of mixed water at a temperature of 40 °C. The compact under-sink unit impresses with its low installation depth, so that the space in the cupboard can be used elsewhere. The rotary control in the front provides infinitely variable temperature adjustment from 30 - 85 °C. The tank is made of robust and durable material. The tank is made of robust and insensitive plastic. In addition, compact thermal insulation keeps heated water warm for a long time. The integrated safety temperature limiter can be reset by pulling out the mains plug, so that the water tank is immediately ready for use again. The accompanying wall mounting strip and the ready-to-plug-in connections ensure uncomplicated installation.



Storage water heater.
— installation depth only 155 mm
— small water heater 5 litres, white. Open (pressure-free).
— container material in plastic
— compact insulation
— continuous temperature setting of 30–85 °C
— mixed water volume 40 °C 7.5 l
— the outlet of a faucet should always be free
— if possible, do not use a shower fitting
— with earthing contact plug and wall mounting strip
— safety temperature limiter can be reset by pulling the mains plug
— contact/moisture protection IP24
— power supply 230 V, 50 Hz, 10 A
— ready to plug in, connected load 2 kW
— weight with water 7.4 kg
— device dimensions 365 x 230 x 155 mm (H x W x D)
— maximum water pressure 4 bar
— max.water flow 5 l / min.





Temperature setting:
continuous temperature setting of 30–85 °C
Under-sink unit version:
Resettable safety temperature limiter
Weight with water filling:
With earthing contact plug:
MAGAZINE
ARMATE® - Fittings of a special kind
Together with our sinks and waste collectors, our taps form the perfect trio. An exciting variety in terms of shape, colour and function.
Contact persons and kitchen professionals in your area
The nearest Naber dealer is not far away. On this page you will find competent contact persons and kitchen professionals.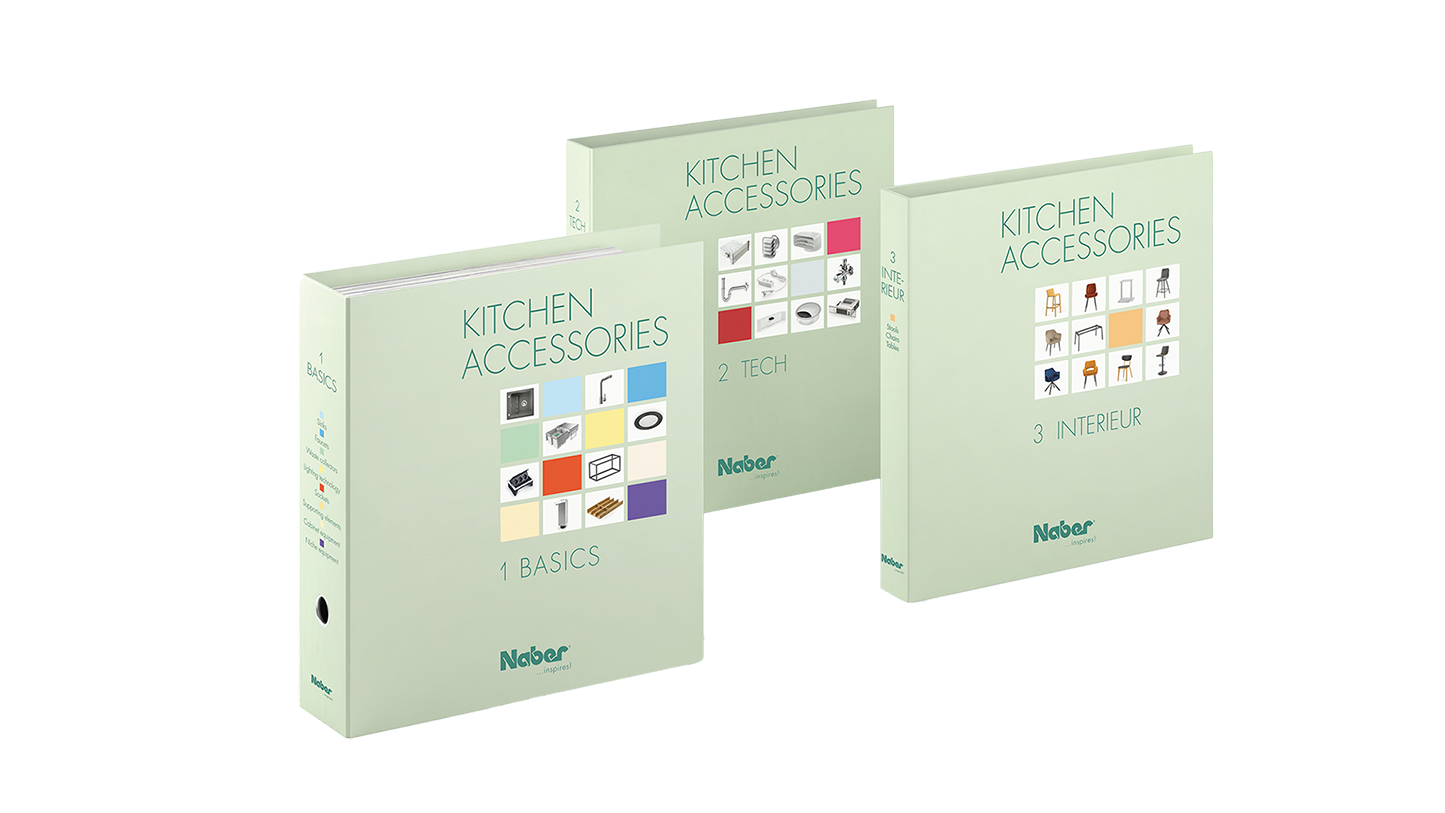 There are three print catalogues: BASICS, TECH and INTERIEUR. They are a popular orientation guide and a rich source of information for browsing and looking around. Let yourself be inspired!