Unmistakable design
convincing functionality
Together with sinks and waste collectors, faucets form a powerful trio when it comes to preparing, rinsing, organising, tidying and disposing in the kitchen. At the same time, high functionality is required when hot and cold water runs over vegetables, dishes and glasses. And not least, the design of a faucet is an outstanding statement of good kitchen architecture.
ARMATE® faucets perform exceptionally in all disciplines: their variety of design ranges from classically neutral to the appeal of a professional kitchen through to minimalist universal design with easy handling. And even if the practical single-lever mixers are more prevalent: at Naber, you'll also find two-handled fittings.
ARMATE® faucets are characterised by the high-quality materials of the faucet bodies and precisely functioning quality cartridges, which provide particularly accurate mixing of cold and hot water. Technically well-engineered and perfectly manufactured, they not only seduce with their stylish appearance, but also with practical additional functions that make for effortless work in the centre of the kitchen.
Pull-out hose with shower head
with adjustable jet

Depending on the model, ARMATE® faucets have practical additional features such as a pull-out shower head with adjustable jet or built-in scald protection, where the maximum temperature can be set directly on the cartridge of the single-lever mixer.
Cold-Start technology


In times of high energy prices, the Cold-Start technology is particularly valuable, for example in the Portare model from the ARMATE® SERVIZIO series: unlike with conventional models, only cold water flows when the mixing lever is in the middle position. Hot water only becomes available when it is moved beyond this point. The technology thus prevents unwanted and unnecessary drawing of hot water, which mostly just stays in the pipe and cools down there.

Alternatively, the Glacier 2 model, for example, saves valuable water with its ECO function. The two-stage cartridge only provides the full water flow after passing a level of resistance.
Problem solvers
with a difference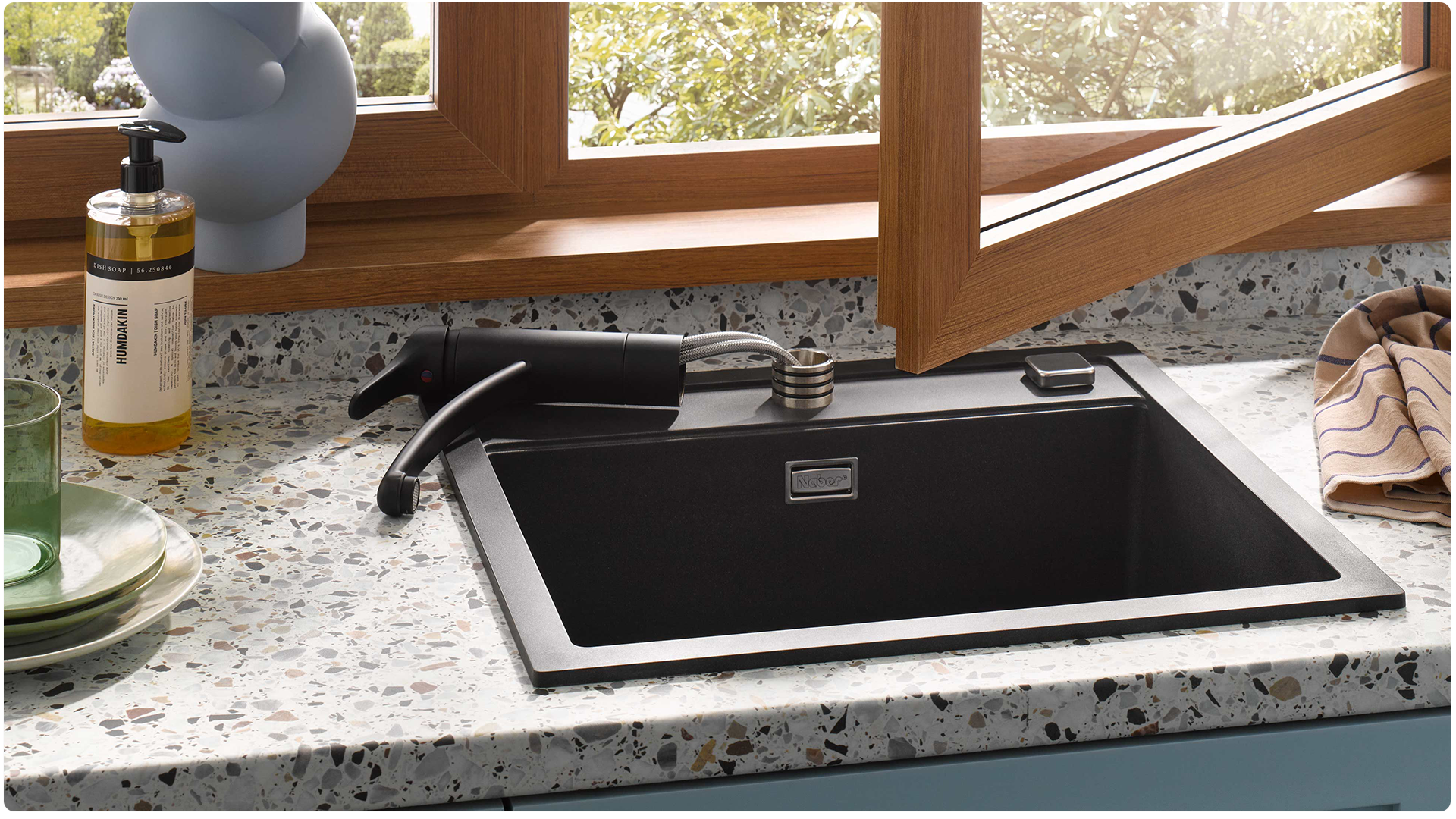 A common problem of kitchen architecture in small rooms: the sink only fits in front of the window. The creative solution: Naber window faucets! The problem solvers with a difference can be tilted and make it possible to open the kitchen window in front of the sink. They are available in various versions and designs, so they blend in perfectly with any interior style and are also visually convincing.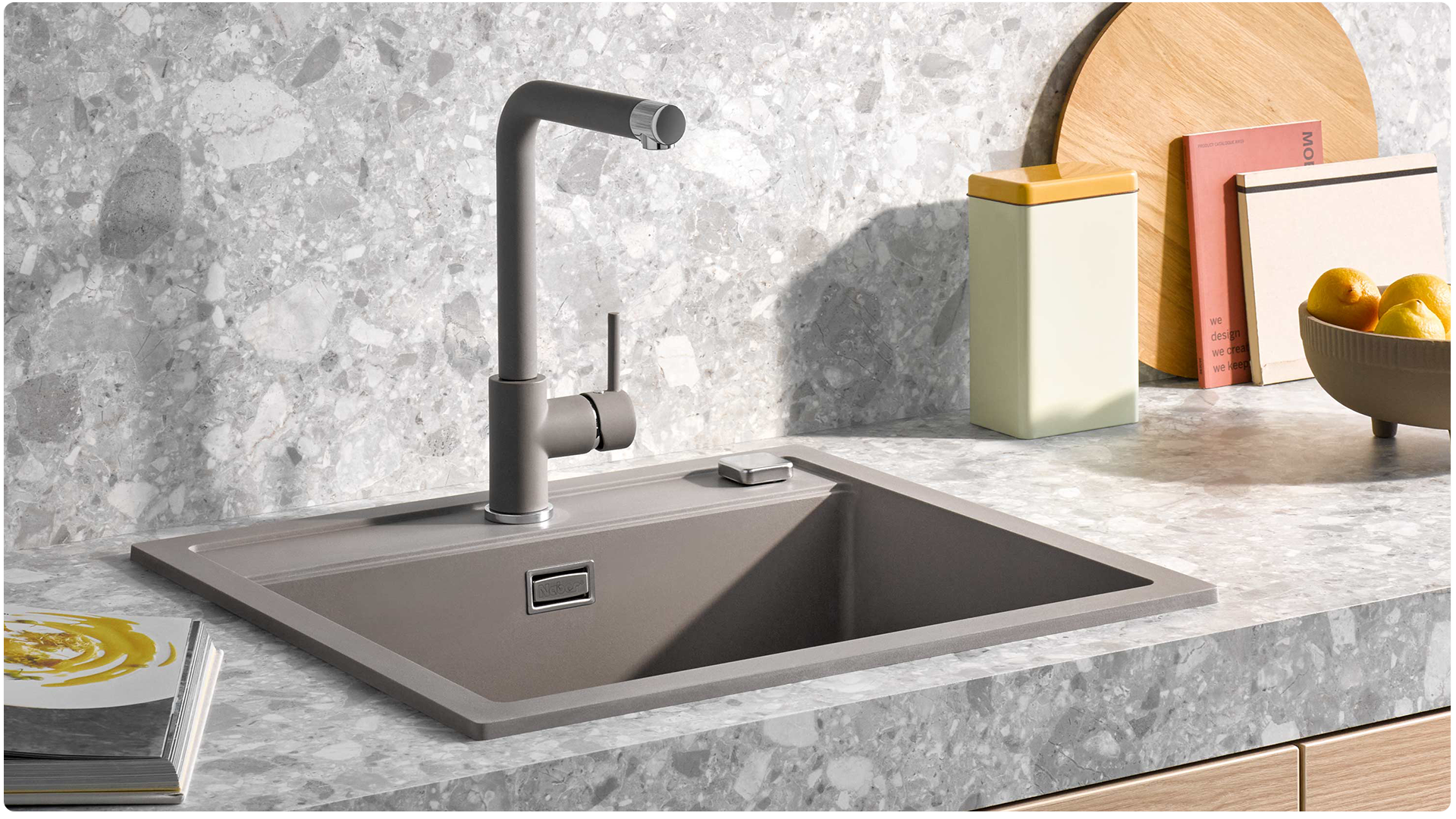 Shiny chrome remains the number one faucet finish. But those seeking more individuality can also choose between shimmering copper and brass as well as various shades of granite, coloured to match the corresponding composite sinks. At Naber, you'll find the whole range of contemporary faucet colours, naturally also in trendy matt black or a cool stainless-steel look.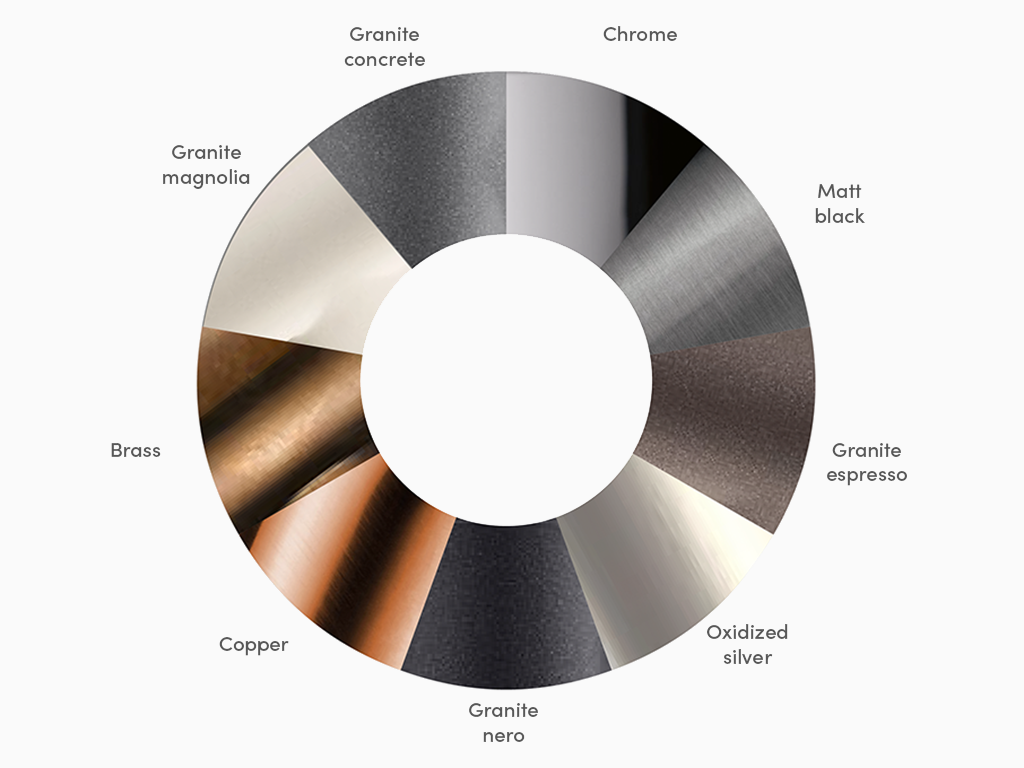 Confidently stylish colour selection
CATALOGUES & BROCHURES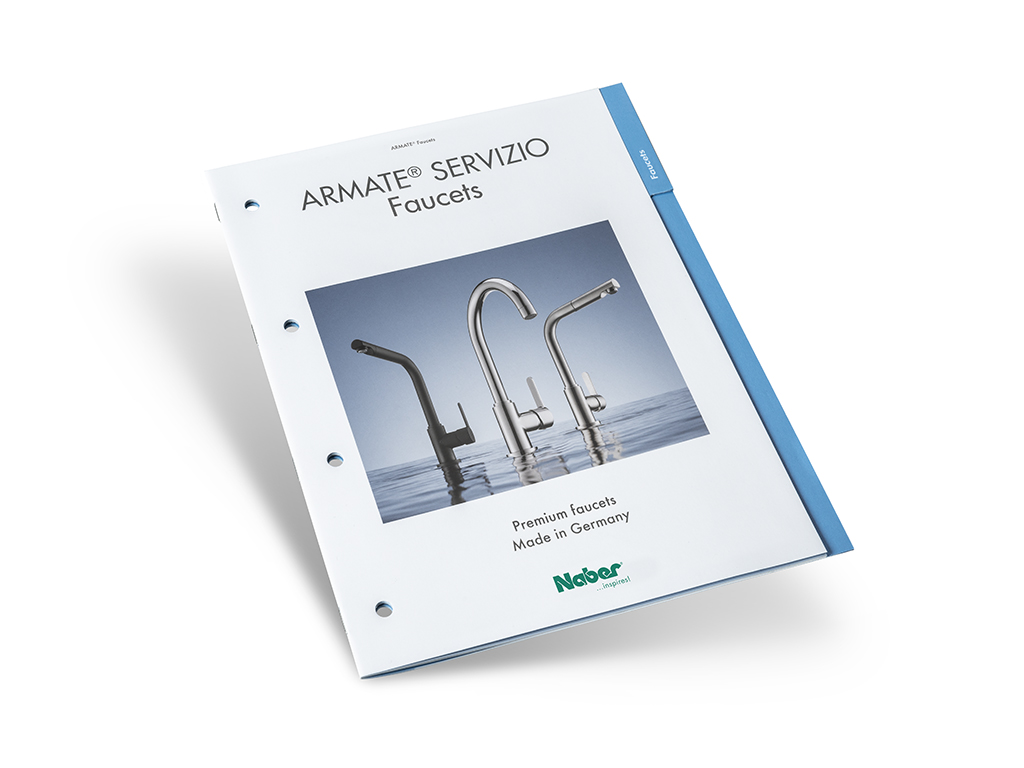 Discover ARMATE® SERVIZIO. Masterfully manufactured, the new kitchen faucets from Naber meet the highest demands. With perfectly finished surfaces, fascinating design and high-quality inner workings, they guarantee the best possible ease of use.